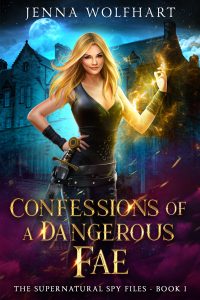 It's here! Confession of a Dangerous Fae, the book in my new series (The Supernatural Spy Files) is now live on Amazon! This book follows Moira from The Paranormal PI Files, but you don't need to have read the first series to read this one. I had so much fun writing this book. She's badass and spunky, but she's a bit of a softie inside at times. Plus, Lugh. I can't wait for you to meet Lugh!
The Supernatural Spy Files is a trilogy, and book 2 is already up for preorder with a release date of January 10th. There's also a fun extra story from Lugh's point of view available for newsletter subscribers. It covers a few of the key scenes in Dangerous Fae and gives insight into what he's thinking.
Here are the links!
I'm a dangerous fae. I'll stab you with one hand while I apply mascara with the other. Every member of the royal guard has a unique power and mine is skill with the blade.
So, when my Queen hears of a new plot against the crown, I'm her top choice for a spy. A little adventure sounds like fun to me, even though I have to play nice to get the information we need. Problem is…our biggest suspect is Lugh: a cocky, sexy, powerful King I'd rather stab than seduce.
But as I grow closer to finding the truth deep within the Edinburgh streets, a strange dangerous magic draws me to Lugh. When his skin touches mine, I feel alive. And it makes one thing achingly clear. Lugh might be plotting to destroy my Court. But he might also be my mate.
The one an old prophecy claims I'm destined to kill.
Confessions of a Dangerous Fae is the first book in a trilogy. 
Happy reading!
– Jenna