Hey guys! The first book in my new epic fantasy series launched yesterday, and I'm so excited that this book is now out in the world. I've been working on it since early last year, so it's been a long time in the making. This one has a bit of everything: magic, mystery, romance, betrayal, and intrigue. It really was a ton of fun to write.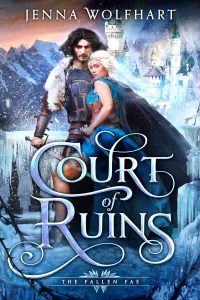 Reyna Darragh despises the scheming ways of the fae courts–she'd rather be on the battlefield. But as the daughter of a High King, her hand in marriage can end the war faster than her sword. So, with her realm in tatters, she agrees to marry her enemy, Prince Thane.
The very same prince who killed hundreds of her kind during the war.
Because Reyna has a far greater scheme in mind. To save her kingdom from the vicious prince, she plans to marry him, make him king, and then murder him, so that she can take the throne herself. But as she grows closer to securing the crown, traitorous desire stirs.
Beyond the storm of passion, intrigue, and betrayal, a greater evil rises in a forgotten realm. In the end, Reyna can help stop it, but she must decide where her loyalties lie: with her duty to her kingdom, or with the vengeance in her heart.