I'm so excited to announce that today is the release day of A Dragon in the Ashes, the first book in my brand new series. This book follows my bookish heroine, Aradia Galatas, as she accidentally finds herself in a dangerous realm with the Lord of Dragons. It takes place in the same world as The Fallen Fae, but it's an independent story featuring brand new characters. You can find it here.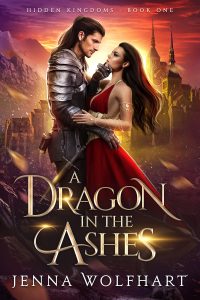 Aradia Galatas is wanted for crimes she didn't commit, and the punishment is a fate worse than death. The king's mages are skilled in the worst kind of torture.
After taking refuge in the library, she stumbles through a portal to a hidden kingdom—and straight into the arms of a tall, dark, and incredibly rude male named Yuto, who calls himself the Lord of Dragons. He claims to be trapped but won't tell her why. And he thinks Aradia is his key to freedom—if only she'll take him back through the portal.
But Aradia can't return to her homeland, not without risking her own neck. She can't stay with Yuto either. He's so dangerous that his touch ignites fire. As Aradia plots her escape, passion sparks. But if she gives in, she risks more than just her heart. They could both lose themselves in the flames.